The Rezwan Razack Museum's learning team deliver accessible world class historical learning experiences for all ages. Discover how paper money was invented and its journey through time. The history of paper money currency in India, tracing its evolution from its beginning in the late 18th century to the present day. Learn how India's currency was recorded and preserved for posterity, the rich and varied monetary heritage.
Note of the month
June 2021
Bank of Hindostan – Sicca Rupees 16
About Bank of Hindostan – 1770-1831
'The banking business of Alexander & Co. and other trading agency houses provided the partners' capital for the banking concern known as 'Bank of Hindostan'. The Bank of Hindostan introduced paper money for the first time in India on similar designs that were current in England. The notes with denominations of 4, 8, 10, 16, 20, 50, 100, 250 and 1,000 sicca rupees were issued for circulation in 1823. This circulation was confined to Calcutta and its immediate neighbourhood and the notes were not accepted in any Government transactions. These were exchanged for gold and silver rupee coins. Sixteen silver coins of one rupee of equal weight was the equivalent of One Gold Mohur.
Sicca Rupees 16
Bi Coloured Notes.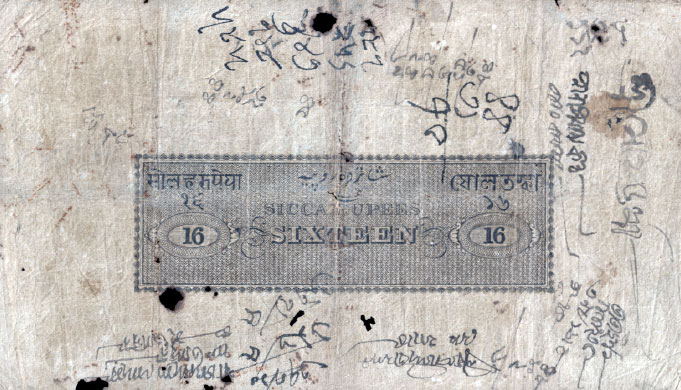 Obverse: Vignette of Tiger seated on an octagonal panel in bottom margin. BANK OF HINDOSTAN in top centre, CALCUTTA on either side. Blue underprint that extends in the margins. Denomination in an Arabic numeral above with denomination in numeral and words in Persian, Hindi and Bangla in an Oval panel on left and right margins. "Bank of Hindostan" in Bangla, Persian and Hindi within octagonal panel in bottom margin with a tiger seated on top. Entered by manuscript signature and For the BANK OF HINDOSTAN. Manuscript date, serial number and payee's name. Printed at Perkins & Bacon, London using Patent Hardened Steel Plate. Engraved by Ashby, London.
Reverse: Denomination with words in Hindi, Persian, Bangla on top and numerals below it. 16 SICCA RUPEES / SIXTEEN 16 in centre.
Watermark: Looped pattern along all four sides in the border. In centre BANK OF HINDOSTAN written in Bangla, English and Persian in three lines.
Date of withdrawal: 1829.
Notaphily
It is believed that people have been collecting paper money for as long as it has been in use. While people began collecting paper currency more systematically in the 1940s, the turning point occurred in the 1970s when notaphily was established as a separate area by collectors. The term was devised in this decade by a group of employees working for the collectors and investments firm Stanley Gibbons in a successful attempt to formalise and encourage interest in the area.
At the same time, some developed countries such as the USA, Germany and France began publishing their respective national catalogues of paper money, which represented major points of reference literature.
In 1961, The International Bank Note Society, (IBNS), was formed as an international association of banknote collectors. Nowadays it has thousands of members from around the world. The IBNS publishes the quarterly IBNS Journal, holds regular mail bid auctions, and promotes lectures at congresses.
The major contributor to this study has been Albert Pick who published some of the earliest catalogues of paper money and through them explained the objective of collecting paper money and its definition. Albert Pick is also the author of the capital part of the Standard Catalogue of World Paper Money, now a three-volume set which consists of thousands of pages of almost the entire collection of the world paper money that has ever existed and is updated annually. Almost every note of every country and many special and regional issues are catalogued following a unique format for each entry: [Country Name]P[unique number for the banknote edition]
The following note would thus be catalogued as "Yugoslavia P-87."
An important aspect of collecting banknotes is the condition of items. Banknotes in perfect condition (without any damage), that usually haven't circulated are rated as uncirculated (UNC) and that is the highest classification for a value that a banknote can have. In addition to that, the value for a specific note in the world paper money catalogue is listed for UNC condition.
Source – Wikipedia